After enjoying your day out with us exploring and tasting what the Tablelands 'Food bowl of the North' has to offer . . . .

WE NOW INVITE YOU TO DINNER!
OCHRE RESTAURANT is recognised both nationally and internationally as one of the most innovative modern Australian restaurants not only in Cairns, but Australia wide - the most highly awarded restaurant.
Waterfront dining at Ochre @ Harbour Lights
A virtual tour through the culinary delights of Australia in a amazing location right on the inlet.
A dedication to local Tableland produce and experience like no other in crafting Native ingredients into modern exciting cuisine.
A range of exquisite dishes, specialising in sustainable Australian regional produce for tourists and locals alike.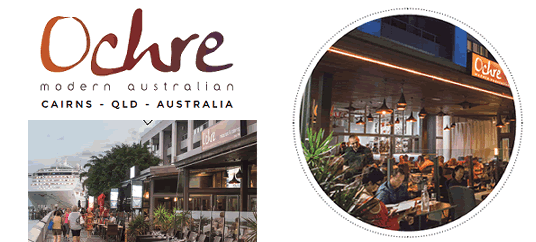 We have selected 4 of their BEST 3 course meals for you to choose from when purchasing at the same time as our 'Tasting Adventure".
You will also receive a complimentary glass of premium Queensland wine.
This dinner can be enjoyed ANY night during your stay. Probably not on the same day as the tasting tour as you should be too full!!
However we can drop you off at Ochre if you would like to have dinner at the end of the Tasting Adventure Tour.